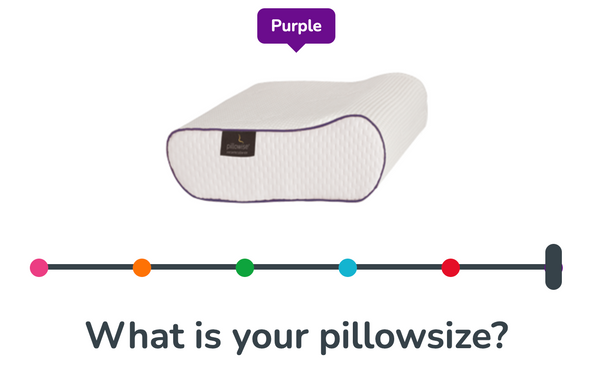 IMPROVE YOUR SLEEP QUALITY WITH THE PILLOWISE NECK SUPPORT PILLOW!  
Pillowise is not just your average memory foam pillow, founded by a Dutch Physiotherapist in 2003, using an algorithm to evaluate five factors to properly fit a pillow based on your shoulder width, neck circumference, neck height, sleep position and mattress firmness. A one-size-fits-all pillow would be the same as a shoe store selling just one shoe size: impossible, right?

A good night's sleep begins with finding the perfect back support pillow pillow fit for you.

A Pillowise pillow in your size will promote proper alignment of your cervical spine to quickly alleviate and prevent neck pain while you sleep!

An appropriate pillow, one that's the correct height and shape, will adapt to the contours of your neck, is comfortably soft and gives great support. 
After your measurements and sleep behaviour are entered, our algorithm will come up with your best pillow match!

All Pillowise products come with a fully refundable 30-sleep guarantee as well as a standard five-year warranty!
No one is alike, in order to determine your perfect orthopaedic pillow size, your measurements need to be taken.

Are you ready to experience the highest quality rest for you, your joints and your muscles?
How to Order: 
Place an order for your desired number of Pillowise Pillows

Once your order has been received, you will receive an email with a

link

to enter your measurements and sleep behaviour.

Reply to the email with your Pillowise pillow colour choice. 

Your Pillowise pillow will then be shipped to you within 5-7 business days.
Pillowise Product Specifications
Neck support pillow size: 22 inch x 14 inch

Core material: 100% premium Dutch memory foam

Cover materials: Moisture regulating 100% Tencel

Cover removable and machine washable at 70°F

Customized to fit your body
How We Measure Pillowise Pillow 
Shoulder width: We measure from the tip of one shoulder to the tip of the other shoulder using your back. 
Neck Circumference: Your neck circumference is the entire length of your neck around. 
Neck Height: Measuring from the base of the ear to the top of the shoulder. 
Sleep Position: Do you sleep on your side, stomach, or back? 
Mattress Firmness: How firm is your mattress soft, medium, firm? 
Once you order your support pillow our team will email you with a link to add your measurements to the system for your unique pillow size. Please reply to the email with the colour indicated once you enter your measurements and that pillow will be sent to you your indicated mailing address. 
Pillowise Pillow Specifications
Length: The Pillowise orthopaedic support pillow is 22 inches x 14 inches. There is an XS all the way to an XL. The difference in size is based on the contour of the pillow. 
Measurements: Each Pillowise pillow is measured to fit your unique body type and sleep style. From XS to XL each pillow ensures you get the perfect spinal and neck support to sleep without pressure on your back creating the perfect back support pillow just for you. 
FREE
SHIPPING
100% MONEY
BACK GUARANTEE
ONLINE
SUPPORT 24/7
Availability:
Many In Stock